Joseph Whitmore
United Kingdom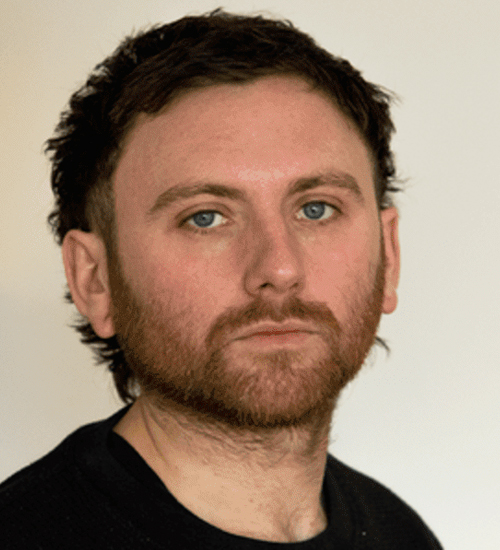 The Machine Zone: A Practical Examination of Accepting Artificial Intelligence
PRESENTATION: THURSDAY – 20 April, 2023, 11:45 @ University of Applied Arts Vienna
This presentation will outline a speculative reframing of the current views held towards creating artwork with tools that are artificially intelligent (AI). This reframing will be referred to as 'The Machine Zone', a conceptual place where these tools of creation are not viewed as tools, but as collaborators. This term has been coined previously to describe the state humans enter when partaking in gambling on machines which are designed to take money. I will therefore be challenging this idea, redefining 'The Machine Zone' as a space for collaboration and discourse.
Entering The Machine Zone requires a bridge over the Uncanny Valley and I will be using my animated short film 'Tales_From' – a silent film about a digitally created marionette puppet and its journey to self-awareness – as a case study. In this example, I collaborated with GPT-3, an autoregressive language model that uses deep learning to produce human-like text, and I will present my process of collaboration extensively.
Developing the film involved entering text into GPT-3 with a response being outputted intelligently based on the input. GPT-3 can answer questions, provide text analysis, converse, and carry out style transfer. GPT-3's outputs were used in the film to create the intertitles, influenced the direction of the animation and gave a voice to the puppet.
My collaboration with GPT-3 also expanded into aiding my research into AI history and the problematic ethics surrounding it. This exploration formed my dissertation for my Masters in Animation at the Royal College of Art. Examining human-to-digital technology relationships cross-culturally has provided me with a broader context in which to explore AI, like the Buddhist funerals held for Sony's AIBO robotic dogs.(1)
Together, GPT-3 and I have explored the complexities of consciousness, intelligence, and future relationships between human and non-human entities. This experience has enhanced the use of digital technology in my practice, bridging the gap of the uncanny valley through collaboration and formed a somewhat positive outlook on the future digital art practice.
Reference: 1.  'AIBO Robot Dogs Given Buddhist Funeral in Japan' <https://www.nationalgeographic.com/travel/article/in-japan–a-buddhist-funeral-service-for-robot-dogs?loggedin=true> [accessed 4 June 2022]
Film viewable: https://youtu.be/8zNwrL6_YsI
Dissertation viewable: https://drive.google.com/file/d/1RHzfJLzf07F2vRL8iOrV85sH_9ee1IGP/view?usp=sharing
Biography
Joseph Whitmore is an artist living in London whose professional practice spans 3D animation, VFX, workshop facilitation and game design. His varied and multifaceted practice has seen him produce short films, perform live visuals, create music videos and code interactive media.
Born in Leicester, UK, he later moved to Manchester to study Illustration with Animation at Manchester School Art. It was here where he developed the experimental and holistic style of artmaking he utilises today.
Upon graduating in 2014, he was selected for the Bloomberg New Contemporaries exhibiting at the World Museum, Liverpool and the Institute of Contemporary Art, London.
Notable moving image works include a commissioned solo exhibition Into The Midst (2019) by Waterside, Sale and funded by Arts Council England, and co-animating To Miss The Ending for studio 'idontloveyouanymore', awarded Best XR Film at London Film Festival and screened at Sundance Film Festival (2020). Other selected public artworks include commissioned projects by Future Everything, NOMA, The Portico Library, and Royal Exchange Theatre facilitating a variety of outputs that include live theatre performance, delivery of community workshops, and public installation.