Corrie Francis Parks
United States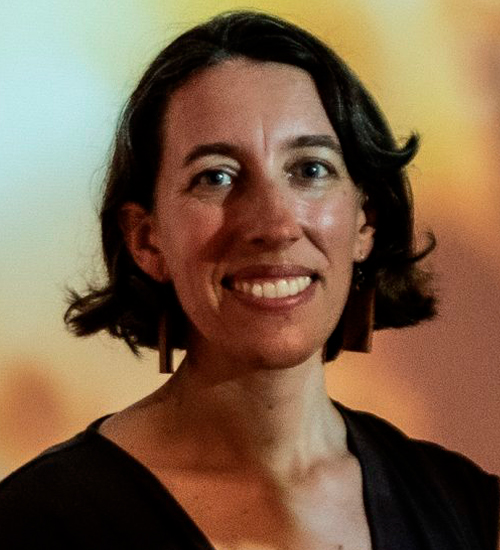 Embodied Ice: Beyond the digital call and response
PRESENTATION: FRIDAY – 21 April, 2023, 14:00 @ University of Applied Arts Vienna
Animation is finding a comfortable home in interactive works in which a viewer's input via digital sensors triggers an output of audio-visual content. But beyond a simple call and response, how can the viewer be coaxed into a more complicated relationship with the artwork?
As an animator using physical materials (sand), I grapple with how my audience can have a meaningfully tactile experience with the work I create, given that the texture, form, and space occupied by the material is distanced by the screen. From a practitioner's perspective, I will discuss experiments and challenges in my recent foray into animation-based installations that seek to elicit a specific reaction/interaction from the viewer while avoiding digital user input devices. I examine the works of other installation artists, specifically the sculptural playgrounds of Erwin Wurm and Robert Morris, who activate the uninhibited inner child of their viewers as a means of initiating meaningful interaction with the artwork. I explore concurrently the artist's desire to give instruction and permission to "touch the art" and the viewer's need for such instruction and permission. The presentation will end with a discussion of my current research project as a Fulbright Artist-in Residence at Q21, Embodied Ice, in which I explore various ways of eliciting a meaningful physical/emotional connection between Vienna urbanites and the distant melting glaciers in the alps.
Biography
Corrie Francis Parks brings life to the inanimate through frame-by-frame manipulation of physical materials. With one hand under the camera and the other in the digital realm, her films and installations maintain an organic connection to traditional production methods while fully integrating digital technology. She is an Associate Professor of Visual Arts at University of Maryland, Baltimore County and author of Fluid Frames: Animating Under the Camera with Sand, Clay, Paint and Pixels.
Parks has been Artist-in-Residence at the MacDowell Colony, Bogliasco Foundation, subnet Salzburg, Fundación Valparaíso and Klondike Goldrush International Historic Park, a Fulbright Fellow to New Zealand and Fulbright Scholar to Austria, and a grant recipient from the Montana Film Office and Maryland State Arts Council. She has created projection-based installations for Light City Baltimore, USA, International Media Art Biennial SEE DJERBA in Tunisia, and the UnDARK Festival in Russia. Her award-winning short films have screened at Annecy, Hiroshima, Ottawa, Zagreb, and at major festivals around the world.